Sunday, 23 July 2017
Climatologist James Hansen: "The Shit Is Hitting the Fan
I would like to acknowledge my sources - Torstein Viddal, Sam Carana and Harold Hensell - along with the Arctic Sea Ice Blog - with gratitude
Arctic sea ice update – 07/21/2017
Methane 07 20 2017 Asia, surface setting.

Methane close-up of Kara and Laptev Sea. Over 2000 ppb readings. I have been dreading this and now it is happening.
Hope it is more of an indication of methane drift rather than an indication of what is coming up from below.
Very high concentrations of methane hydrates are in the Laptev Sea. Free methane is also in this area. It is stored in high-pressure pools under the frozen safety zone
There are also cracks in the tectonic plates that give inorganic geologic methane a route to the surface.
The cracks have been plugged by ice.
I will monitor this closely to see if the excessive methane is locally persistent or if it is methane drift from the Kara Sea.
http://www.gmes-atmosphere.eu/…/nrt_fields_ghg!Methane!Sur…/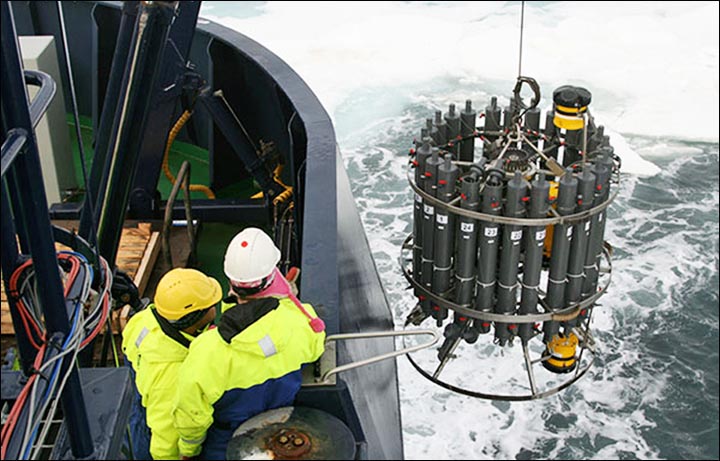 New expedition in Laptev Sea suggests increase in the rate of underwater permafrost degradation.
AIRS Instrument, Aqua Mission. Average Daytime Temperature at the Surface. July 20, 2017, to July 22, 2017, I moved the cursor around in the Arctic Ocean. There is no place in the Arctic Ocean that is freezing during the day. The Aqua Mission Satellite and its orbit can be seen. Nasa's Eyes on the Earth
Could we really lose all
Arctic Sea Ice
— not just in summer but even winter and all seasons — by as early as 2026? That appears to be the speed at which we lose *Annual Average* sea ice volume in the Arctic this summer.
The posted plot, as well as a handful of others, is now explained and narrated in this latest Winter Blue Ocean Update —
youtu.be/gNqPZ8Ymg4Y
Daily volume: 4,524 km³ (4th lowest for the date) Δ +1303/day
–1427/week, –10256/month, +1512/year, –3255/5year (–42%)
Daily extent: 7,059,031 km² (4th lowest for the date) Δ –41k/day
–615k/week, –2597k/month, –69k/year, +17k/5year (+0.2%)
2017 volume maximum 22,255 km³ on May 12th (*lowest*)
2017 volume minimum¹ 3,006 km³ on July 20th
2017 extent maximum 13,878,287 km² on March 6th (*lowest*)
2017 extent minimum¹ 7,059,031 km² on July 22nd
¹Preliminary max/min
Source: JAXA / Wipneus for July 22nd 2017.
«Now, HYCOM is back online, again It still looks terrifying. Without Nuclear Winter- that Ice could be Toast by September. And all Forests in the NH, also.»
[
http://forum.arctic-sea-ice.net/index.php/topic,1834.msg121827.html#m
sg121827
]
Death by Waves.
I just saw this on reddit: "Sea ice off the coast of Greenland. Viewed from a Boeing 747 cruising at 38,000 feet.
«A view of the waves currently breaking on the shore at Utqiaġvik (Barrow as was):»

[
http://forum.arctic-sea-ice.net/index.php/topic,1834.msg121829.html#msg121829
]
«Windy TV predict persistent waves around 2m north of Svalbard this week while warm air is drawn over the Atlantic sector. Also plenty of waves on the Pacific front at various times
I'm not sure how this is determined but it's scary how far into the pack the model sees waves propagating»
«End of melt season and a lot of rain 23/09 +/- 3days?»...
«We've already been seeing inch per day rain in the last few days Nth of the CAA.
And I'm estimating incoming water roughly equally coming in from Atlantic and Pacific ends of around 10 cubic km a day.
That's been releasing enough latent heat to melt 100 cubic km of ice. The reason we haven't been seeing a view of areas with lots of slushy rubble is the fogbanks condensing from all the heat transfer that the slushy state can provide. a lot of the heat warms air and rises of course.
And before escaping at altitude it forms ice cloud that is very very bad for ice preservation because it lets most of the solar energy come in but insulates outgoing longwave very well.
Simularly with large droplet size in fog and thunderclouds This whole cycle is self reinforcing as the more updraft and high altitude exit, the more low level warm air and moisture comes in.
Only when most of the slush disappears from around the more resilient floes, or where there is a decently compressed pack is the capacity for thermal transfer low enough for us to expect to have clear skys.
People keep hoping that all the clouds will preserve the ice. Its faster to boil a potato than to bake it.
And faster to steam it than boil it.
Water vapour at or below boiling point is a very effective heat transfer vehicle to colder objects.»

[
http://forum.arctic-sea-ice.net/index.php/topic,1834.msg121786.html#msg121786
]
O
ld ice cover in the Arctic has
shrunk to
6% of what it was in 1984.
The age of the ice is represented in shades of blue-gray to white, with the brightest whites representing the oldest ice. In September 1984, there were 1.86 million square kilometers of old ice (5 years or older) spread across the Arctic at its yearly minimum extent. In September 2016, there were only 110,000 square kilometers of older sea ice left. Original post on NASA
According to NASA, the ice meltdown in the Arctic has been nothing but heart breaking. If you care a tiny bit about climate change, you've probably seen the arctic ice cover shrinking in an animation or video or something. Yet what you are about to see below is many times more alarming.
The key message is: old ice cover in the Arctic has shrunk to
6% of what it was in 1984.
Yep, something stinky has hit the fan; and more of it is hitting and the fan is spinning ever faster.
Fingers crossed for those last, unwitting polar bears. Hope they will pray for us when they get to heaven!
Six killed as Netanyahu throws match onto Jerusalem powder keg
21 July, 2017
Three Palestinians were killed and hundreds more wounded on Friday as thousands protested across the occupied West Bank and Gaza Strip over new Israeli measures infringing on Palestinian worship at al-Aqsa mosque in East Jerusalem.
بالروح بالدم ..نفديك يا شهيد..تشييع جثمان الشهيد محمد شرف الذي ارتقى دفاعا عن الأقصى في منطقة رأس العامود.
#جمعة_الأقصى
Three settlers were fatally stabbed in a West Bank settlement later that night.
The bloodshed followed a week of civil disobedience in Jerusalem with worshippers performing prayers outside the gates to the al-Aqsa mosque compound.
Israel had ordered al-Aqsa closed following an armed operation outside the mosque compound last Friday that left the three alleged Palestinian attackers and two police officers dead.
The mosque compound was reopened on Sunday but only after Israel had unilaterally installed security cameras and metal detectors at the gates, sparking protest and international warnings against changing the delicate status quo at the site.
Israeli Prime Minister Benjamin Netanyahu's cabinet decided early Friday to leave the metal detectors in place, rebuffing dissent from Israel's domestic intelligence apparatus and the body that oversees its military occupation regime, both of which urged a solution that would allow Israel to back down while saving face.
Israeli police meanwhile prevented Palestinian men under the age of 50 from accessing the site on Friday.
Al-Aqsa, which Muslim tradition holds is the site from where the Prophet Muhammad ascended to Heaven during the Night Journey, is also a touchstone of Palestinian identity. Israeli provocations there have precipitated major episodes of violence in the past.
Unchecked assaults and incursions on al-Aqsa by government-backed extremist Israeli groups that seek to destroy the mosque and replace it with a Jewish temple sparked a wave of protest and violence in the autumn of 2015 that soon spread to other areas of historic Palestine, particularly the Hebron area of the West Bank.
Witnesses told media that Muhammad Mahmoud Sharaf, 18, was shot by a settler in the East Jerusalem neighborhood of Ras al-Amoud on Friday. Sharaf, who was shot in the neck, was reportedly from the Silwan neighborhood of Jerusalem.
The Ma'an News Agency, a Palestinian outlet, reported that Sharaf was quickly buried in an effort to prevent Israeli forces from confiscating his body.
Israel frequently confiscates the bodies of Palestinians slain by its forces as a means of collective punishment with the stated intention of discouraging funerals that turn into mass protests, withholding the bodies sometimes for months.
A video uploaded to social media shows Sharaf's funeral:
Unconfirmed reports state that the armed man is a security guard at the Maaleh Hazeitim settlement in occupied East Jerusalem.
Israeli forces disperse Palestinian worshippers in the Ras al-Amoud neighborhood of Jerusalem after mass prayers were held in the streets in protest of Israeli measures at al-Aqsa mosque, 21 July. Oren Ziv ActiveStills
A second Palestinian youth, Muhammad Abu Ghanam, 20, was fatally wounded by Israeli police in the al-Tur neighborhood of East Jerusalem later that day.
Video shows Palestinians smuggling Abu Ghanam's body out of al-Makassed hospital, where he succumbed to his injuries, before his remains could be confiscated by Israeli forces:
Israeli forces had raided the hospital "looking to detain Palestinians who were injured during the clashes," according to the Ma'an News Agency.
Ma'an reported that Abu Ghanam was a student at Birzeit University.
Photo shows smiling young man wearing graduation ceremony gown from waist up
A third Palestinian youth, Muhammad Mahmoud Khalaf, 17, was shot in the chest and killed by Israeli forces in the village of Abu Dis near Jerusalem on Friday.
Khalaf was buried in Abu Dis.
The Democratic Front for the Liberation of Palestine, a leftist faction, stated that Khalaf was affiliated with the group and had recently passed his secondary school matriculation exams.
Three Israelis were killed and one more critically injured in a stabbing attack in the Halamish settlement near the West Bank city of Ramallah late Friday night.
The suspected Palestinian assailant from the nearby village of al-Kobar was reportedly shot but not killed. Israeli media identified him as Omar al-Abed, 19. Al-Abed published a manifesto on social media stating that he was motivated by the developments at al-Aqsa mosque.
Hundreds of Palestinians injured
The Palestine Red Crescent society told media that approximately 400 Palestinians were injured by Israeli forces across the West Bank, including East Jerusalem, on Friday. The majority were injured by tear gas inhalation, while around 100 were wounded by live fire and rubber-coated steel bullets.
At least six protesters were wounded by live fire and another four injured by rubber-coated steel bullets in Hebron, according to the Red Crescent.
A video from Hebron appears to show a protester being shot in the back as he was running away from Israeli forces:
Tnouh is the third resident of the village to be killed by Israeli forces so far this year.
Muhammad Ibrahim Jibril, 24, was shot dead earlier this month during what Israel claims was a vehicular attack against soldiers.
In January, soldiers in Tuqu were shown on video dragging a gravely injured Qusay al-Amour, 17, across the ground for several meters, his head repeatedly hitting the ground. Al-Amour died of his injuries.
On Wednesday, soldiers shot and killed Rafaat Nathmi Shukri Hirbawi, 29, at the Beit Einoun junction near the West Bank city of Hebron. The army claimed that Hirbawi was attempting to carry out a car-ramming attack when he was killed.
Witnesses told Ma'an that soldiers denied a Palestinian ambulance access to the wounded man.
Two soldiers were lightly wounded in the incident, an army spokesperson said.
A Palestinian man was killed during a raid near the West Bank city of Ramallah on Sunday. Israeli police claimed that the slain man, Ammar Ahmad Khalil, 34, was suspected to have shot at Israeli vehicles the previous day.
A police spokesperson told media that Khalil pointed a gun at Israeli forces during the raid, prompting them to shoot him. No Israeli soldiers were injured during the incident.




Forty-nine Palestinians have been killed by Israeli forces and armed civilians so far this year, 13 during the month of July alone. Thirteen Israelis and a British national were killed by Palestinians in 2017.
A rocket was launched from the northern Gaza Strip early Sunday morning, according to the Israeli Defense Force (IDF).
The weapon "exploded mid-air," according to the IDF announcement posted on Twitter.
A short while ago, a rocket was launched from the northern Gaza Strip. The rocket exploded mid-air. No injuries have been reported.
No one was injured in the alleged attack, the Israeli military said, without immediately providing any further details.
The alleged projectile was reportedly headed to the Ahskelon coastal region in southern Israel, the Times of Israel reported.
No rocket alert signal was activated as the explosion happened "relatively early" in its flight, Israeli media reported citing officials.
The incident comes amid escalating tensions in the region, with Israel beefing up its military presence in the West Bank.
Israeli police have used force to disperse Palestinian worshippers near the Lion's Gate in Jerusalem. RT Arabic correspondent Dalia Nammari was caught up in the violence.
In a video shot by RT Arabic, crowds of worshippers can be seen trying to flee, as clouds of smoke fill the air and Israeli police move in.
Nammari says she received a blow to her back from an Israeli soldier.
Saturday's protest started as hundreds of Palestinians held their evening prayers outside the al-Aqsa Mosque, refusing to be subjected to the new Israeli security measures there.
Palestinians Riots in Jerusalem Over Equality and Safety Access to the Temple Mount
Israeli News Live